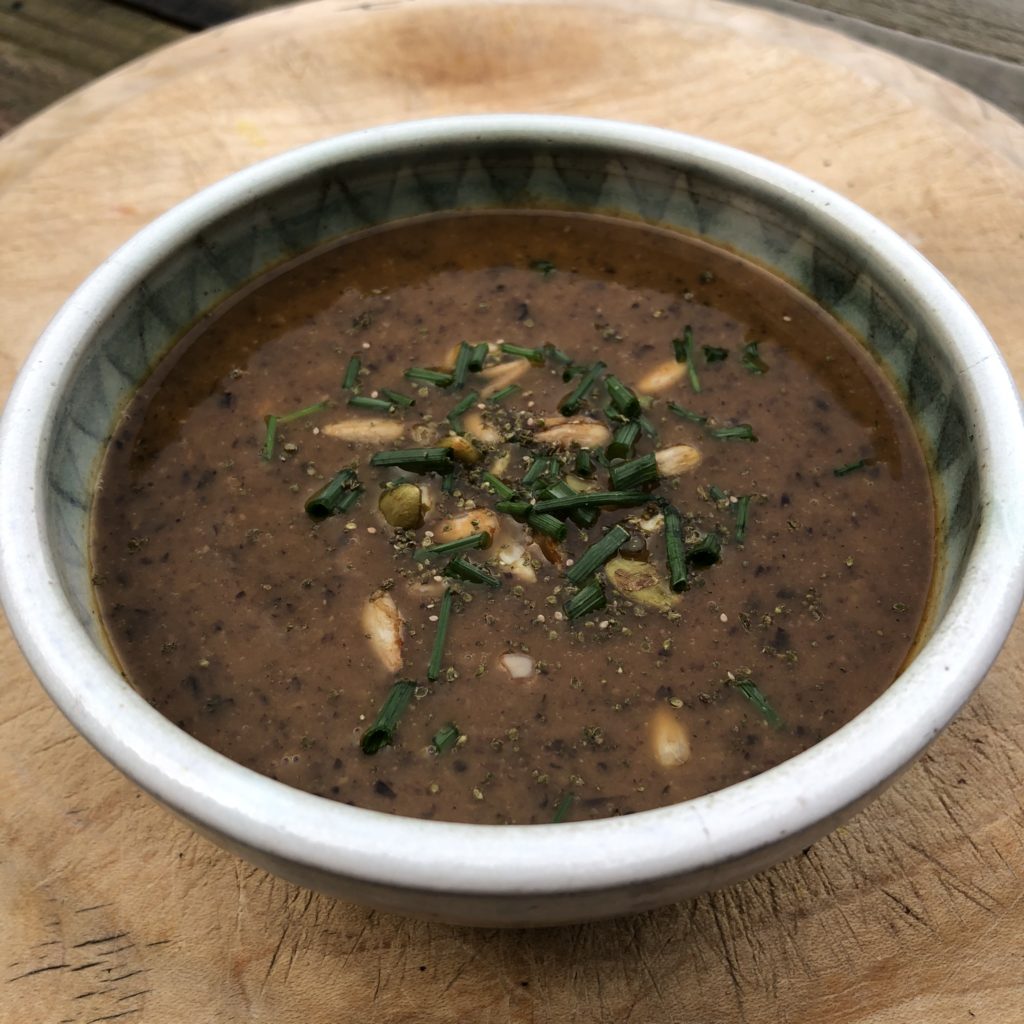 This is a hearty soup I have fond memories of sharing with friends on winter foraging walks. However it's too good not to make throughout the year, perhaps on days like today when the weather is cooler and sun has gone elsewhere. It's a go to recipe for me, one which I absolutely love. So deeply nourishing and unfathomably (unless you happen to have the recipe) delicious. This recipe is a guideline and you can adapt it, to some extent, to the ingredients you have
Ingredients 
Black Beans
Carrots
Onions
Alexanders if in season, or celery 
Fresh tomato sauce (fresh tomatoes, garlic, onions, alexanders leaves or bulbs (if making in winter/spring) otherwise use celery, tomato paste, thyme, rosemary, parsley, garlic mustard (if making in spring) or thyme or wild marjoram (if summertime). 
Coriander
Cumin seeds, toasted and crushed or cumin powder
Toasted and crushed alexanders seeds (optional)
Stock. Bought or home made stock – Home made stock recipe
Soak the beans (if using dried beans) overnight, then cook in a pan or pressure cooker, without adding salt. You can use bought, ready cooked beans if you like. In which case, glass jars of beans are my favourite option. I find the texture can be better and they also may be a healthier option than tinned beans. I'll leave for you to decide, but health food stores are starting to stock jars of beans more often now.
Sauté the vegetables together with the spices and salt
Stew with a lid on the pan, on a low heat until vegetables have started to soften
Meanwhile make your tomato sauce. In a separate pan, cook on a low heat the celery (or alexanders if you have some) in olive oil, with a pinch of salt. Next add tomatoes and other ingredients. Cook gently, tasting as you go and daydreaming about Italy or how amazing this stew is going to be with so much love going into its creation. I'm crazy about herbs so love to include dried and if possible fresh herbs, to sauces in generous quantities. 
Add the prepared tomato sauce (you could certainly use tinned tomatoes for a quicker version and it will still taste really good)
Cook for a few minutes more 
Add the beans and top up with their cooking liquids or stock
Cook for around half and hour
In the final minutes of cooking, add the juice of an orange, some mirin and tamari. Cook for a few minutes more then taste
You can then, if you wish, ladle some stew into a bowl, stir in a little dark miso then reintroduce this to the pan. This is optional but can add another depth of flavour as well as all that wonderful goodness that miso offers. Adding miso towards the end of cooking means you don't destroy the beneficial micro-organisms in this alive, fermented food!